The Bulldog Bash 2015
15/08/2015
Written by Lizz
Yes I know I've said it before, but I'm saying it again. I am now officially retired from competitive drag racing. This doesn't mean that if the opportunity arose, I wouldn't be on the race track again; it just means that I will not be competing, or spending all my money on racing, instead supporting and crewing for Kev when the fuel bike comes out.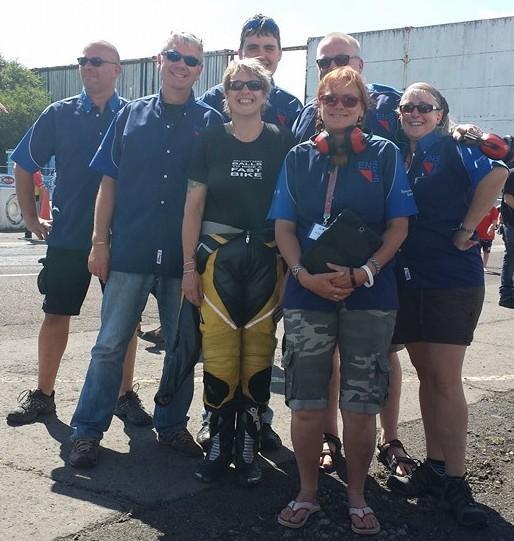 Kev has given me more racing years than I ever expected, mentoring me and giving me great advice, which led us winning a Championship in 2013. He is one of the best nitrous tuners out there, we learnt from another good guy, Ken Cooper, and Kev and I testing and developing his own ideas, has been able to tune my bike with minimal spare parts with tired old stuff which I could never afford to replace. There are not enough words or hours in the day to really thank Kev so much for everything he has done for me. To have achieved what we did was pretty good, considering!
I am (so far), in a relatively short career, the second woman, next to Helen, who has won the ACU Comp Bike Championship, won the APIRA Championship, and was Runner up in the SPRC one. I also won the SPRC Paul Giddings memorial trophy for overcoming adversity, won the APIRA most outstanding achievement award, and Sportswoman of the year. I am also the second woman, next to the late Sarah-Jane Head to have competed in Funny Bike. I have been very lucky. I am going to miss the racing and the banter, a lot!
My crew is one of the best. Chris Pyke, who has been Crew Chef for many successful racers; Lee Baxendale, Ken Cooper, Helen Whiston (Curran) and Kev, to name a few, and guided us all through seasons, and assisted us in winning Championships and has been my rock, and calming influence, and took me seriously, answering every stupid question I ever had, and was always there during the highs and the lows. He will be back crewing for Kev next year, when the new fuel bike comes out.
Massive thanks goes to Julie Moxley, whose eagle eyes and her infamous quote "I know something here is not quite right, I just don't know what" ,will go down in history. When we have checked her concerns, every time, she has saved the engine from carnage and irreparable damage. She came to help us knowing nothing about motorbikes, and now is a very good starter and clutch lady – Both Kev and Chris and Minx have helped and guided her, and she is a valuable part of the team. Over the years there have been some characters crewing for me. The romantic idea to have the first all-girl crew in Europe fell flat, and although of us really had any idea what we were doing at the beginning, we were Eager! Lisa Ambler, Jemma Sandell (Cooper), and Sarah Chapman – Minx- who knew more than most, was happy to get her hands dirty, and all four of us one evening, late into the early hours lapping valves and getting blisters in the vain attempt to get me back on the track the following day. Massive thanks too, to Mandy for sublime catering skills.
I can't get this far without thanking Jake Charman either. Now 17, he has been a huge part of the team, from making tea and coffee in the early days, to now setting up the clutch, fuelling up, fettling, and more recently towing me at the Bulldog Bash, which I have to say I was worried about, but this was short lived; He is one of the best. Nothing fazes him, and he is one amazing chap, Kev should be very proud of him, I know I am. One race meeting at Santa Pod he stopped racing during eliminations whilst he was racing in Junior drag bike as I was going rounds, and he wanted to help the crew. What other child would do that. I won that meeting, I don't think I every really appreciated at the time what a sacrifice he made. One very genuine person.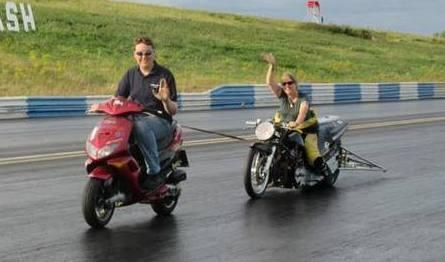 This brings me to a quick(ish) report of my last runs at the Bulldog Bash. I hadn't ridden the bike for 2 years, which is owned by Richard Gipp. Big thanks go to him for letting me loose, and the help and support he has given me over the years too. The last time I rode it, I was 4 stone heavier, and this time we had quite a few issues in getting me off the line. We needed to take quite a lot of power out of the bike to do this!! (We were riding blind as we had no setting for a more slimline Lizz!)
So In brief , I wheel span, I caught fire, blew a hole in the headers, which Dave May took away to weld up, needed other welding done, which Martin Hill thankfully did, issues with the clutch basket and the electronics, Kev having to go home to get parts, and just got back in time for me to run again. Again Kev, Julie, Chris, Paul Callow and Jake got the bike sorted time and time again to get me up the track. They worked their arses off, it was a challenging weekend, and I am so grateful to them for their persistence and dedication.
Track conditions were not on our side, a lot of wheel spin on all runs, and terribly out of practice, the shift light was like a strobe, so I guessed the shift points, but got up the track ok. My times were on a par with another Funny bike racer, Dave Peters, so we were reasonably happy with this. I will admit I got a bit tearful, twice over the weekend. Once, when my faithful Comp bike, now sold, which I won the 2013 Championship on, was pushed passed me to go to its new home, and the second time, my last run, when I got to the top end, and realised that this was my final run, and "that was it" Everyone at the top end were so lovely, and wished me well.
On the tow back, everyone in the stands gave me a standing ovation, the cheers, whistles and yells, was totally overwhelming, and very humbling. It's things like this, that makes you realise what a unique event the Bulldog is, what a totally amazing sport drag racing is, and how much everyone appreciates what you do, whether things go according to plan or not. Once back at the pits and I had thanked everyone who had got me up the track, and calmed down a bit, Erik Feijt, a Dutch racer came to see me, and asked if I would like to race his race bike the following day. Funny how these things happen. I thanked him very much for this very kind offer, and said that I would have a think about it. 
Sunday morning, found me in my leathers again, wondering what on earth I was thinking, to agree to ride a bike with a clutch lever (the funny bike has a slider clutch, and no lever) and no wheelie bars!
Long story short, I had three runs , each run faster than the next, and it was then I decided to call it a day, before I flipped or broke it. A great finish to an awesome weekend and thanks so much to Erik for that opportunity.
Huge thanks as always to the HA for an incredible event, and to Sarah and Dicko, for inviting us in the first place. We will see you next year!
Massive thanks to everyone that has supported, guided, taken the mickey and sponsored me over the years. Plus Photographers, Journalists, tracks and track crew. I have met some pretty cool people and made some lovely friends along the way. However, I still stand by the fact that I was only ever as good as the crew I had – I was always just the nut on the saddle who was a little brave and tried to do as they were told, made the light go out, always hit 5th, and eventually I got that right too !
What a wonderfully terrifying sport!