Drag is Back 2015
Drachten, The Netherlands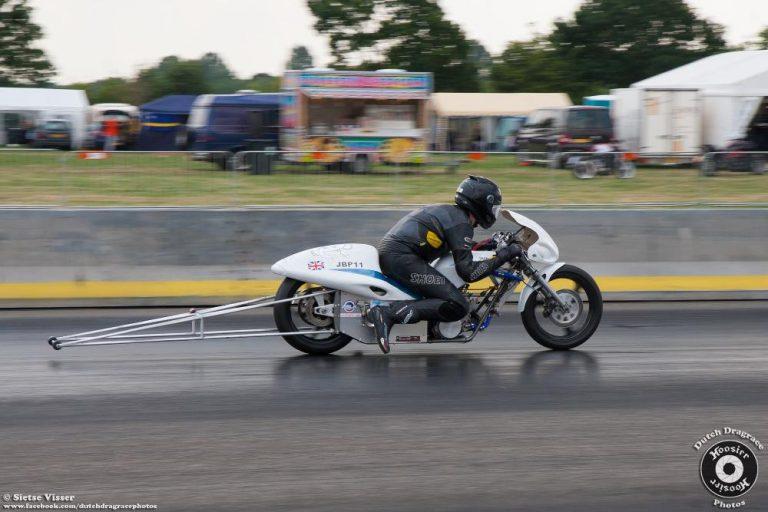 The first day in Drachten and the weather was very hot. The first two hours of racing were allocated for testing so we decided to get a couple of runs in early to see what the bike would do after tuning from Don Kennedy. Our first run was delayed a little by some issues setting up the tree, Dad, being a little rusty at this crewing game, forgot to pull the pin out of the air shifter. I noticed the flag flapping in the wind just after 60ft and tried to pull it out however the loop connecting the flag to the pin broke leaving the pin in place and meaning the run was completed in 1st gear with a final time of 17.46 seconds @ 44.36 km/h (27.56 mph). In our second test and tune run everything went well. I ran 10.86 @ 97.27 km/h (60.44 mph). We decided also during qualifications to switch from feathering the clutch back to our old method of dropping the clutch at high revs. This took a little perfecting as at first this caused big wheelspin but a burnout caused the engine to bog. After a few clutch adjustments changing spring pressure and weight we were back to our 10.8. A slight increase of the shift point later brought the time down to 10.56 seconds @ 97.72 km/h (60.72 mph).
Qualifying was based on reaction times and by the end of the day I had reached number 1 qualifier with a peak reaction time of 0.147 seconds.Day 2 was another day of qualifying and I was still running consistent 10.5's giving us a good base for our eliminations dial-in.By the end of qualifying I had dropped to number 3 however this still gave me lane choice for the first elimination round. A drivers meeting was called that afternoon as the weather forecast showed 80% chances of rain for Sunday. We all agreed that the best thing to do was run one more qualifier then move into at least two elimination rounds that afternoon. Unfortunately, a very large oil down stopped racing as the curfew was coming closer and despite the track crew's best efforts that would not be able to clear the track in time.
In the first elimination round the next day I was paired with Jan Van Schie who unfortunately had mechanical issues and could not attend giving me a bye into the semi-final where I was with Louis. After drawing at rock paper scissors at least 10 times a coin toss decided lane choice allowing me to choose the right hand lane. At first I thought I had no chance as Louis left the startline way before I did and I only found out at the top end that he had red lit and seen the light as he went past it. This got me through to the final against Blade. After some glitches with the timing system it was found out that I had broken out and Blade had won.
Overall it was a great weekends racing with some great friends. I would like to say thanks to Dad for transport and crewing as well as Rene Van Den Berg for his brilliant hospitality and for making us feel so welcome. I would also like to thank Emrys Blomont and Margot Schmidt along with everyone else at ESLA and the track crew for running a brilliant event and getting us a total of 16 runs over one weekend. And finally thanks to Lizz for organizing our first event in Europe.