Tynwald Drags 2017
Jurby, Isle of Man
Written by Lizz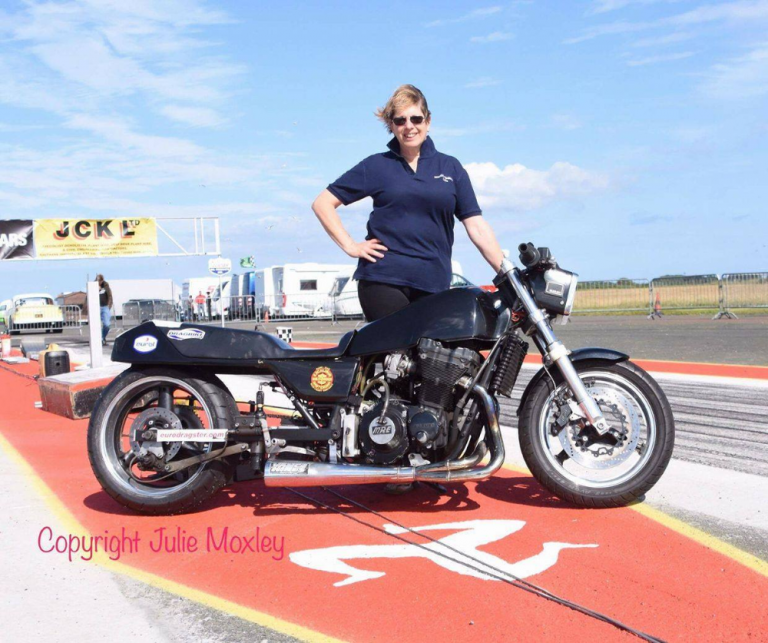 Just got back from a cracking weekend on the Isle of Man. The ferry journey over on the Thursday night was rather rough, and not very pleasant, but once there, and we had driven to Paul and Maria's in a torrential rain storm, we finally got to bed after midnight.
In the morning it was still raining, but by late morning the rain had almost gone, and we set off to the track at Jurby. Set up, bike out, and had a look about. Julie Moxley, by this time was on her way, I hadn't heard from her for a couple of weeks, apart from a text to say she was on her way. Imagine my total surprise when not only Jules got out of the car, but Minx (Sarah Chapman) too! Lost for words I'm not, very often, but I was …… Brilliant that I had both of them here. Very happy !
We had a little walk up the track later on in the evening, and it is not like anything I was expecting. Having been spoilt by the Santa Pod track and Shakey, this track had no rubber, no stick, a strong headwind, and I have to say I was worried ! Although the bike was a lot slower than I was used to, I knew that I needed to be able to ride this, and communicate exactly what the bike was doing so we could set it up accordingly.
The following day we were ready to race. The weather was over cast and incredibly windy. This was just for fun? The whole idea to come over was to see old friends, and bringing the bike was a bonus, so I didn't have a "race head" on, it was testing and getting some more seat time in the attempt to run a nine. However with the most God awful headwind, the bike had other ideas, and I was still in funny bike mode. First launch was very squiffy, wheel spin and all over the place, and although I didn't feel like I was in any danger, it never occurred to me to feather the throttle, but simply punch gears ! When it did the same the second time, Minx was beginning to worry about my safety, and my usual ""brave" stats was replaced with "mental" I red lit on a couple of runs, and the clutch was dragging, but did better on the last run of that day, and Paul thankfully said he had a better than I was using part worn tyre and would fit it for us, while Kev and Julie set about the clutch, as by this time, typically it had started to rain again.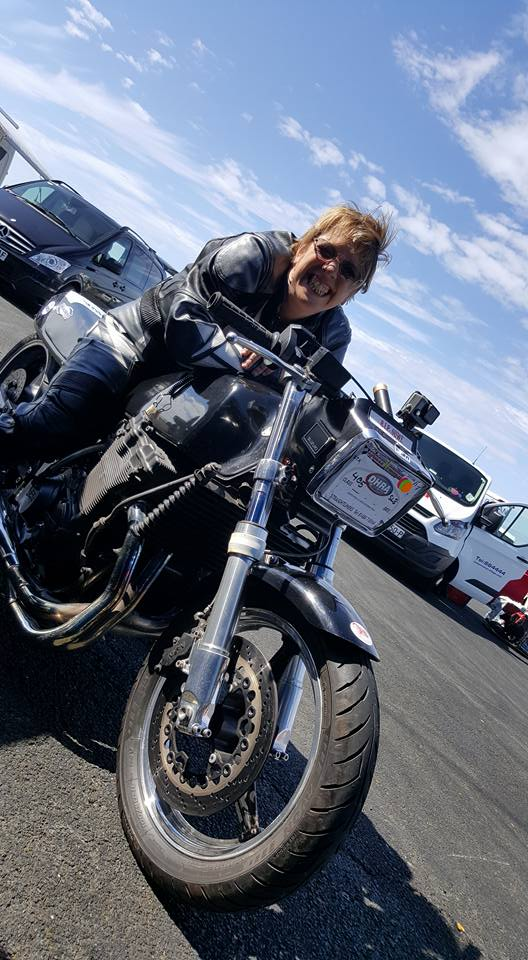 Food and drink and a marvellous social gathering, met a lot of lovely people and great characters, you know who you are ! For the record ….At no point was Minx in charge of cooking 😉 Turned in, ready for the following day. First run, still had the wheel spin, and the second, and was getting a bit scared and despondent. I went off to get changed out of leathers, and came back to find the crew in a huddle with Kev. He had bought me a brand new tyre, and Minx was off to get it fitted. Most women would expect jewellery, but no! This is the second time he has bought me a race tyre, and I love him for it !! He also took me aside gave me a pep talk, told me all the things I was doing wrong, showed me when I should be doing what, and that really kicked me into touch. Paul said earlier that this would be the difference between night and day, and he wasn't wrong! It was a real confidence boost to actually go the way I was facing and not slide about! With the help of Kev mentoring, Minx calming, and Phil Woods crew Miff, spotting, the times got quicker, until Helen from Straightliners told me to find my opponent and get ready for eliminations. I had totally forgotten that I was actually entered in a race meeting!! Elimination 1 in which I was racing against the class leader, and Championship leader, John Hawkins, on a Bandit 1200. he had run a 10.14 earlier, and I was still way behind these sort of times. It was like a switch had been turned on, and my whole attitude changed. I was racing, competing, and wanted to win! And win I did. I knocked him out in the first round, with a 10.23 and bet him by 200th's of a second! Sorry John ! There were only 4 in the class, but I was now in the final!
Competitive head was back on ….. And I was up against a local chap David Atherton on his R1. Cracking race, ran a PB on this track for me and the bike of 10.16…….. My first Straightliners win, on a brand new track, on a street bike I am still learning to ride! Very happy, what a perfect finish to a great weekend.
My first run out on the track where conditions were not what I was used to at all, was 11.09 so to finish with a 10.16 was not too shabby.
Lots of people to thank :- Kevin, this goes without saying thank you so much for so much, Julie and Minx, Paul and Maria, Dee and Lauren, Trevor, Phil and Sarah and the Straightliners massive, Louise for betting me a pound that I could run a 10.5 and would give me the pound back if I ran a 10.2 (it's now my lucky pound, it's still in my leathers pocket, and there is stays!!) IM73 dragbike racing, Finlo Hughes for the best race of the weekend, Erik Feijt and Arjen De Hass for giving me the bike to play on in the first place, everyone we met on the Isle of Man, who were so welcoming and friendly, and lastly my new tyre !!
I'm loving this retirement – Bring on the Bulldog Bash !